Six Flags New England (Agawam)
The Heritage Surveys team performed several surveys for Six Flags in 1999 and 2000 including: layouts for the water park, two new rides and the parking lots; boundary survey; aerial mapping; and wetland mapping.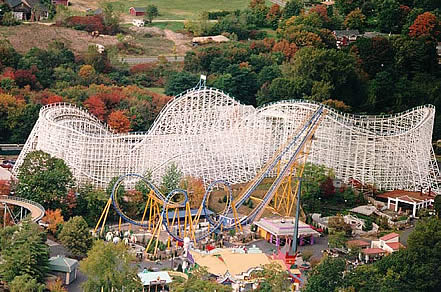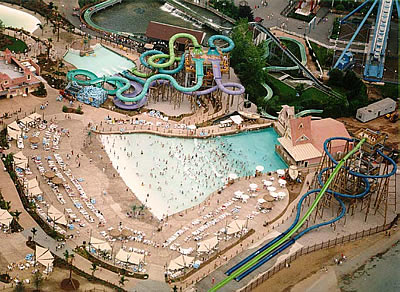 Six Flags New England is located on 235 acres in Agawam in Western Massachusetts near Springfield. Other towns in the area include Northampton, Southampton, Westfield, Easthampton and Chicopee. The amusement park was originally known as Riverside Park, which opened in 1840 as a trolley park. Riverside closed during the Depression but reopened in 1940, drawing in thrillseekers with Thunderbolt, a now classic wooden rollercoaster. Thunderbolt is still in operation and the original neon sign still shines. In 1997, Six Flags purchased Riverside Park and thus, began a huge renovation project. It officially became Six Flags New England on December 8, 1999. The grand opening took place on May 5, 2000. The park includes a water park called Hurricane Harbor and the Superman Ride of Steel, very highly rated by rollercoaster enthusiasts. The aerial photos above were taken during construction and after the grand opening of Six Flags New England.