Naismith Memorial Basketball Hall of Fame (Springfield)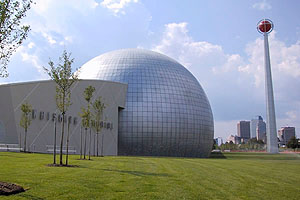 The Heritage Surveys team was involved in all stages of creation of the new Naismith Memorial Basketball Hall of Fame: pre-demolition, pre-construction, construction and post-construction.
Work began in 1999 with topography, utility and boundary line surveys. Heritage Surveys also conducted road surveys for the exit ramps leading to the new BHOF. They prepared the aquisition plan for the proposed development. The Heritage team produced existing conditions plans, plans for the closure of 5 roads on the site and various layout plans for construction - of the new building, a walkway bridge spanning adjacent railroad tracks and the Spire that now serves as a unique landmark. The Heritage team also drew up an easement plan for the Hall's sewer pump station. Finally, in 2003, after the official opening of the new Basketball Hall of Fame, Heritage Surveys went to work again in drawing up condominium floor and site plans for leasing.
The new Basketball Hall of Fame had its grand opening on September 28,2002. It is located in Springfield, Massachusetts right on the Connecticut River, the birthplace of the game of basketball. Other towns in the area include Northampton, Southampton, Westfield, Easthampton and Longmeadow. The original Basketball Hall of Fame opened in 1968 on the campus of Springfield College. Then, in 1985, it was relocated to downtown Springfield, adjacent to where the new BHOF now stands. The new BHOF is a very impressive, complete museum and entertainment complex, part of which is in the shape of a basketball. The three-story bulding houses three theaters, exhibition galleries, a gift shop, administrative offices and a basketball court that also serves as an atrium/meeting area. The ground floor alone is made up of 50,000 square feet of retail space and a 200-seat theater.